How many of us felt conscious of our misaligned, crooked teeth while taking a picture? Awkward smile, mindful grin, we've dealt with all up & close. Many of us flaunted our crooked smile since we could not see ourselves wearing the artillery-looking meta braces. For so long metal braces were the only misaligned treatment until invisible aligners came along.
Invisible braces and its benefits.
1. Removable and Invisible Braces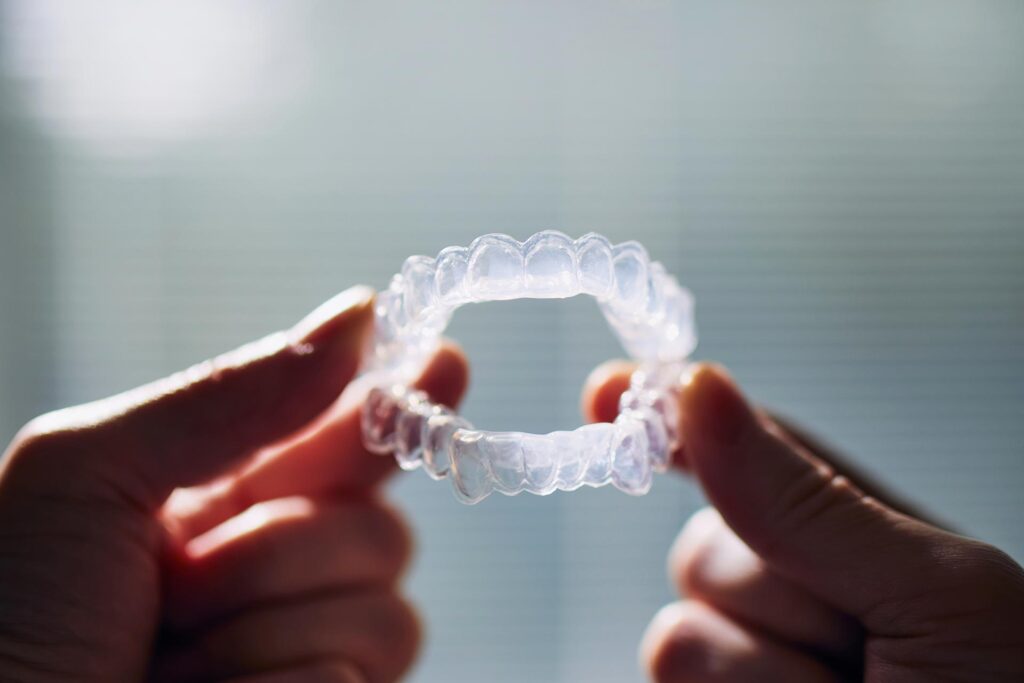 Now "Say Cheese" without having to think about a mouthful of metal during social interactions. Invisible braces for teeth straightening are made with advanced technology to do the job discreetly. Hitting two targets with one arrow, invisible braces fix the problem of both visible metal wire and mouth hygiene concerns.
They are so subtle that the average person will have no idea you're wearing them- even in up-close conversations. A definite reassuring for working professionals or otherwise people in a position where appearance is especially important to them. Now no one needs to know that you're using invisible braces for teeth straightening unless you want them to know. Invisible aligners include no metal, making them completely removable. You can simply pop the trays in and out in a jiffy.
You can easily remove them while eating, drinking, brushing, or flossing. Most of the time you can eat what you want while having your treatment, just be sure to brush and floss teeth after every meal.
2. Quick and effective
One of the most important factors for patients seeking dental care is the speed of the treatment. Everyone is looking for a treatment that will make sense in their busy life. Teeth straightening treatment with invisible aligners are the solution to these needs of the patients. Invisible braces are not only effective in getting you your desired smile but this treatment has the power to cut your treatment time in half. Invisible braces duration for the treatment is from 6 months to 1 year, thought some treatments may range to few more months depending on the patient's smile.
3. Easy on the pocket
Invisible aligners are the most affordable teeth straightening option today. Many patients assume that invisible braces treatment cost would be too heavy on the pocket, luckily invisible braces treatment cost often winds up being less than or equal to traditional braces, considering the process and the use of the latest technology used to manufacture these trays, the overall price investment is even less.
4. Digitally-abled
Mouth molds are a thing of the past. Gone are the days when ceramic casts were used to scan the insides of the mouth. Invisible braces treatment uses the 3D camera, which scans the contours of one's teeth, gums in mouth and gives a precise and custom-made result.
They are an important part of the teeth straightening consultation as it helps in aligning patient and surgeon's goals. Invisible braces specialist uses this as part of the consultation by showing invisible braces before and after shots to patients and gives them an idea of how will their new smile looks like after the treatment.
5. Minimal dentist visits
At some dental practices, you will only need a total of 2 appointments during the course of your treatment. A few other dentists may ask you to check in every few weeks to assess the progress of your invisible brace's treatment and to make any other adjustments if necessary. Orthodontic treatment and invisible aligners, in particular, are more popular than ever before.
The first step towards a straight smile is by booking a consultation with Aligner Factari. During your appointment, you'll learn more about straightening your teeth as an adult, how invisible aligners work, and much more.
Are you ready for your invisible braces smile? Book a free 3D scan with us.